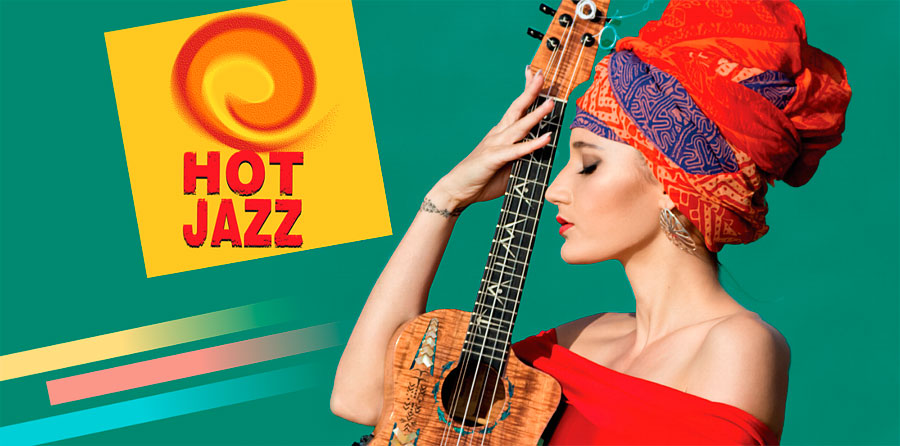 Papote Jimennez & Los Hacheros (Cuba/USA)
Brooklyn's Los Hacheros are modern-day torchbearers of the Golden Age of Latin music. They revive folkloric styles like Son Montuno, Guaracha and Salsa, and often combine them with Bomba, a fiery rhythm from the mountains of Puerto Rico, mixing them with new interpretations of beloved classics.
A band of only five musicians, Los Hacheros can sound like twice or triple their size. Excelling at improvising, especially as a group, these musicians will make you want to jump out of your seat!
Uros Peric & the Lady Jazz Trio (Slovenia/Holland)
When we heard Uros Peric at the Ascona Jazz Festival, we had no doubt: Peric is an amazing artist with a larger than life voice full of expression. His voice is very similar to that of Ray Charles, and he has dedicated some of his career to honoring him.
Uros brings an authentic blues style to his piano playing, and is compared to the great Gene Harris. He will be accompanied by the LadyJazz Trio from Amsterdam.
The Chihiro Yamanaka Trio (Japan/USA)
Hailed as "The biggest surprise of the Umbria Jazz Festival" by JazzTimes, Chihiro Yamanaka is one of the most impressive recent discoveries in Jazz. She is most famous for her chamber music recordings with a Piano, Bass and Drums Trio.
All Music reviewers have praised her as "a fierce talent with robust chops, plenty of soul, and a seemingly endless imagination for the musical possibilities of the piano trio."
Dennis Lichtman (USA)
The Clarinet master Dennis Lichtman is a captivating multi-instrumentalist, who excites crowds with his music and singing. He plays the Clarinet, Saxophone, Violin, Banjo, Guitar and more.
He will be playing the best of Benny Goodman and Sidney Bechet – both of which were influential musicians and composers who contributed to Jazz, each in his own unique style.
Chico Chagas & the Samba Trio
Chico Chagas brings the best of Brazil – in his own unique, warm and melodic way. This superb musician from Rio Branco in the hearts of the Brazilian Amazonas, is an expert Accordion player bursting with expression and with perfect technique.
In his homeland of Brazil, Chagas has developed an extensive career; writing music for artists such as Saxophonist Paulo Moura, as musical director of known Samba singer Elza Soares, as well as composing for film and theater.
The Taimane Trio (Hawaii)
Taimane has performed for stars such as John Travolta, Steven Seagal and George Clooney, and was the warmup act for Chicago, Jimmy Buffet, Earth Wind and Fire and more.
She is a talented ukulele player, singer and composer, who began to play at the age of five. Her playing style is highly physical, and ranges from known pieces by Bach and Vivaldi, to American blues, flamenco and even Led Zeppelin.
Sylvia Cuenca & Shay Zelman, Jeff Clayton, Tamir Hendelman, Dor Samocha
Max Roach was a master of melodic drumming. He used drums as an instrument for music, not just beat. He played alongside Jazz giants such as Charlie Parker, Dizzy Gillespie, Bud Paul and Charles Mingus.
This show will be a special tribute to his unique work, with a combination of talented and energetic musicians.
Tammy McCann and the Eyal Vilner Big Band
Named "Best Jazz Vocal Performance" for several years by the Chicago Tribune, Tammy McCann is an internationally acclaimed Jazz Vocalist whose powerful, sultry, and emotionally charged voice paints pictures and tells stories by merging Classical vocal technique and Gospel esthetic with Jazz to create a sound that is completely her own.
She will be performing with the Eyal Vilner Big Band.
The Ellen Ten Damme Quartet (Holland)
Ellen Ten Dame is a famous television and film star in her home country. She is also a multilingual singer, songwriter, and piano, guitar and violin player.
She brings a personal interpretation to the beloved songs of Edith Piaf (La Vie En Rose, Milord), and Marlene Dietrich (Lola, Falling in Love Again).