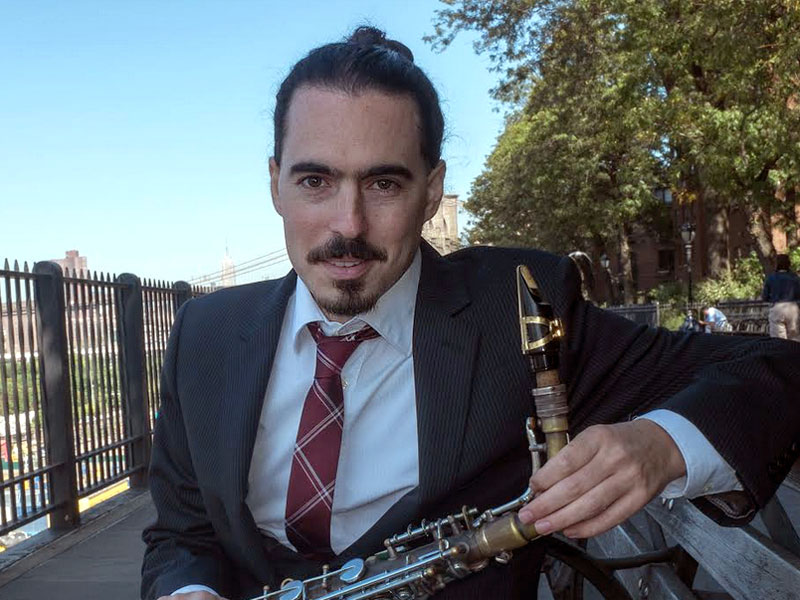 Born in Tel Aviv, saxophonist/clarinetist/flutist-arranger/composer/conductor Eyal Vilner moved to New York in 2007 and graduated from the prestigious New School for Jazz and Contemporary Music in 2009.
Since its inception in 2008, The Eyal Vilner Big Band has been performing widely at some of New York's landmarks such as Jazz at Lincoln Center's Dizzy's Club, Iridium, Smalls, and Central Park Summer Stage. The big band's first two albums, Introducing the Eyal Vilner Big Band (2012) and Almost Sunrise (2015), received rave reviews and stand strong at the Top Jazz Radio Charts of the US and Canada.
The Eyal Vilner Big Band has collaborated with some of the top jazz legends of our time including NEA Jazz Masters Frank Wess, Jimmy Heath and Jimmy Owens, and pianist Junior Mance. The big band performs Vilner's new arrangements of jazz standards as well as his original compositions.
"Eyal Vilner's skills as a musician are unquestionable, but his talents as a composer, arranger and bandleader are what's truly on display on Introducing The Eyal Vilner Big Band, a remarkable debut recording from a group poised to take their place among the major big bands of the East. Vilner offers clever charts, excellent musicianship and an exciting new sound in the finest tradition of contemporary big band music."
~Edward Blanco, All About Jazz NY
"With multiple lyrical lines and harmonic boundaries shattered with alarming regularity the Eyal Vilner Big Band is scoring their own arrangement that should soon have them at the pinnacle of big band success. While keeping one foot firmly in the history and a keen lyrical eye on the present, Eyal Vilner is a formidable force to be reckoned with in the big band idiom."
~Brent Black, Critical Jazz
"(Vilner) revives a classic style of music and refines it to appeal to contemporary audiences. Vilner is all about showing beauty through music, coordinating instrument parts, layering them and integrating them into positively-charged melodies that are soothing on the ears and caressing to the soul."
~Susan Frances, Yahoo!
The Eyal Vilner Big Band will perform with Tammy McCann on May, 2019. Check it out!