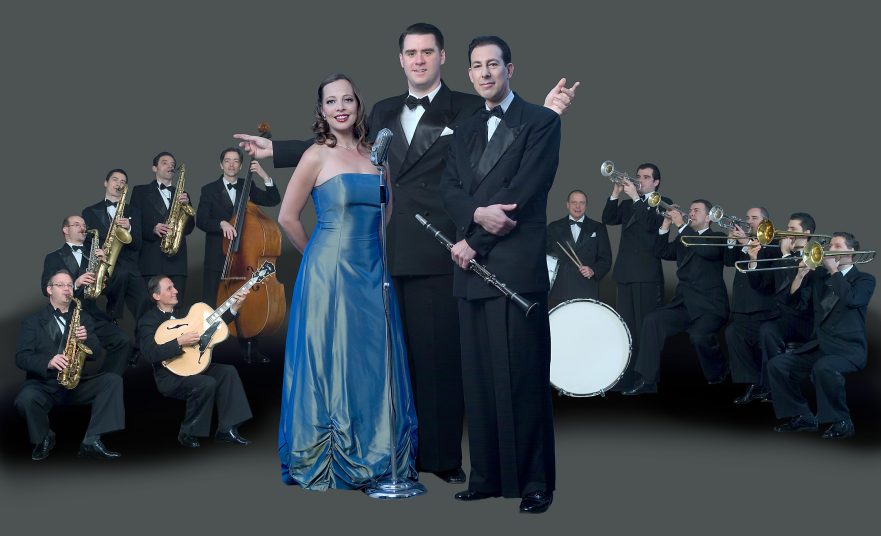 Swing – the fabulous American music of the '30s – is experiencing a remarkable rebirth.
The revival of swing as dance and pop music began some years ago in the U.S. There within a short time, swing has captivated a large following of young fans.
In 1987, the SWING DANCE ORCHESTRA was founded under the direction of "Swing King" Andrej Hermlin. Since then it has developed into the most outstanding and successful swing band in Germany. In addition to frequent radio and TV performances, the orchestra has played countless gigs in prestigious hotels, delighted its audiences in German and European concert halls and has been engaged for glamorous, glittering ball events. The SWING DANCE ORCHESTRA has undertaken highly successful international tours to major cities including Brussels, Zurich, Hong Kong and London.
In New York – the old and new metropolis of swing – Andrej Hermlin has appeared with his musicians in the renowned "Rainbow Room" of Rockefeller Center and in the not less famous "Hotel Pennsylvania".
Recently the orchestra has performed in several film productions, among
them "Taking Sides" under Oscar-winning director István Szabó and "Cold is the Breath of Evening" after a novel by Ingrid Noll.
The orchestra has a multifaceted repertoire containing many familiar but also rarely played original American arrangements from the '30s. These include melodies of Benny Goodman's orchestra, Artie Shaw, Jimmy and Tommy Dorsey, Duke Ellington, Cab Calloway, Glenn Miller and many other stars of the swing era.
The SWING DANCE ORCHESTRA is authentic down to the details: the sound, the arrangements, the microphones and music stands, the instruments and the musicians' outfits are like the American originals of that time.
The sound of this big band is completely distinctive and not driven by trends or fads.
Most important, the SWING DANCE ORCHESTRA plays music for listening and dancing – from an era whose glitter and glamour continues to fascinate audiences today.