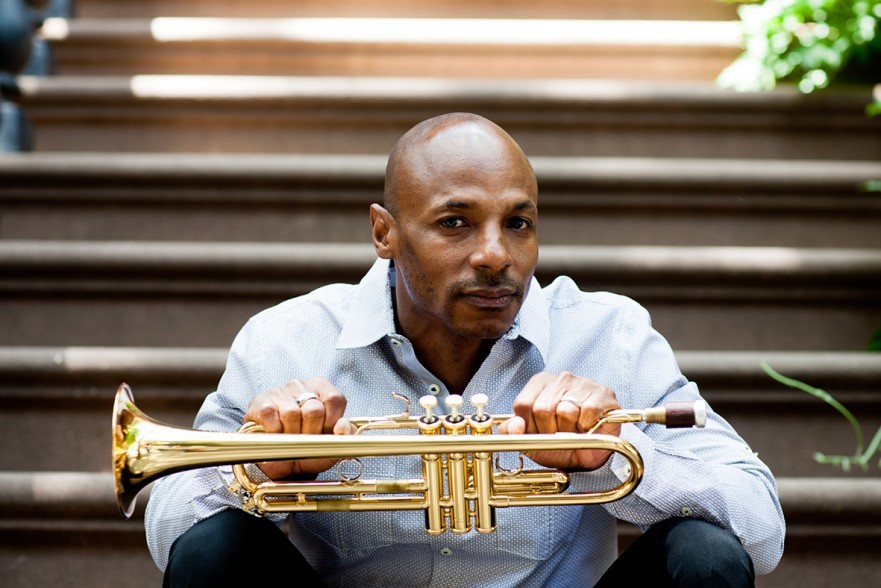 Duane Eubanks
Philadelphia native and trumpeter, Duane Eubanks has performed everywhere from the Hollywood Bowl to Birdland to the Kennedy Center, in addition to touring throughout Europe and Japan.  He is a member of Dave Holland's two time Grammy Award winning big band and the late Mulgrew Miller's band, Wingspan.
Duane was born into a family of musically gifted talent.  His mother, pianist Vera Eubanks was Kenny Barron's first piano teacher and a professional church pianist;  his brothers, renowned trombonist, Robin Eubanks and guitarist, Kevin Eubanks, former bandleader of the "The Tonight Show with Jay Leno"; as well as his uncle, legendary pianist Ray Bryant all contributed to his early music education.
Duane started playing trumpet for the first time at age eleven, but didn't consider music as a career until college. While studying for a Business Administration degree at the University of Maryland Eastern Shore, Duane joined the university's jazz band, which afforded him opportunities to play with jazz luminaries such as Stanley Turrentine, Shirley Scott, Charles Fambrough and Clark Terry.
After graduating from college, Duane studied jazz at Temple University.  He performed admirably in master classes with Dr. Billy Taylor and Wynton Marsalis.  In addition to his formal jazz education, Duane took two years of private lessons with famed trumpeter Johnny Coles, who became one of his primary mentors.  The years of study and continual encouragement from Robin and Kevin motivated Duane to take on his ultimate challenge.  In 1996, he moved to New York with his good friend and musical partner, Orrin Evans.
Duane has worked with saxophonists Bootsie Barnes, Jeff King, J.D. Allen, Bill McHenry, and Antonio Hart;  drummers Louis Hayes, Jeff Williams, and Elvin Jones; trumpeters Tom Harrell, Randy Brecker, and Nicholas Payton; bassists Eric Revis and Avery Sharpe; pianists Mulgrew Miller, John Hicks and Orrin Evans, and trombonists Robin Eubanks and Curtis Fuller, among others.
Working in various genres of music is something Duane takes pride in.  This has given him the opportunity to record and/or tour with The Temptations, Alicia Keys, Talib Kweli, Mos Def, Wu Tang Clan, Freedom Williams, Kirk Franklin.  Duane has completed a recording project that will incorporate all of these influences.  The recording will feature him on trumpet, Abraham Burton on tenor saxophone, Marc Cary on piano, Dezron Douglas on bass, Eric McPherson on drums, and special guest, Steve Nelson on vibraphones with an anticipated release in early 2015.
Duane is a recipient of the 2013 Philadelphia Education Fund EDDY Award.  He was a participant as musician on Dave Holland Big Band's two GRAMMY Award winning recordings, What Goes Around in 2002 and Overtime in 2005.
Currently, Duane is teaching private lessons, performing with drummers Jeff Williams, Doug Carn, and bassist Avery Sharpe, and soulful songstress Rhonda Ross, daughter of the legendary Diana Ross.
With all of the musicians he has performed with over the years, young and old, as Duane puts it, "It's hard not to be inspired musically."