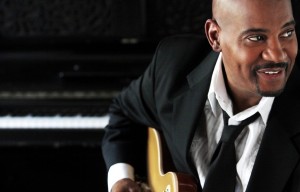 Allan Harris
ALLAN HARRIS is a world-class singer, guitarist and songwriter.  Perhaps best known for his interpretations of jazz standards, Allan's smooth vocals and guitar-styling easily cross genres, from jazz to rock to blues. He is unquestionably one of the most versatile talents in contemporary jazz and blues music.  "Harris is a velvet-voiced jazz singer, with a savvy manner and music in his veins." (Variety)  Very few vocalists in the industry have his charismatic combination of soulful yet elegant phrasing, exciting musicianship, and dynamic stage presence.
Tony Bennett has called Allan "my favorite singer" and The New York Times' Stephen Holden raves about "the protean talent that is Allan Harris."  Allan has cultivated a global following, playing for packed audiences and receiving outstanding reviews throughout the United States, Europe, Russia and the Far East.  A three-time winner of the New York Nightlife Award for "Outstanding Jazz Vocalist," Allan is regularly featured at the world's great music festivals.  The Miami Herald wrote that Harris' voice and demeanor "project the warmth of Tony Bennett, the bite and rhythmic sense of Sinatra, and the sly elegance of Nat 'King' Cole."
Growing up in Brooklyn, Harris was meant to be a musician.  His mother was a classical pianist, and his Aunt was an opera singer, who turned to the blues.  Because Aunt Theodosia attracted the attention of famed music producer Clarence Williams, he became a regular dinner guest and often brought along other performers such as Louis Armstrong.  Once Armstrong even baby-sat and terrified young Allan with his "frog like voice." Sunday afternoons were spent at the Apollo matinees, which was across the street from his Aunt Kate's Soul Food restaurant, where he got to meet many of the artists who played the Apollo during his formative years.
As a teenager, Harris moved to Pittsburgh where he learned from some of the masters like Harold Betters and Roger Humphries.  He worked with bands around the area and learned to play many different styles of guitar from country to soul music, and ultimately found his niche in jazz.  Early on in his career he was known as a guitar player who sang, but as audiences began hearing his voice he became more focused on singing.  While his guitar style was influenced by rock musicians of the day, his voice always was most comfortable singing the American Songbook.  Harris moved to Atlanta and then to Miami where he continued developing his voice and stage presence.  It was in Miami that he first met Tony Bennett who encouraged him to return to New York in 1991.
Since then Harris has been a featured soloist and producer of a three-year jazz series at Sotheby's where he first teamed up with Tommy Flanagan.  He has paid tribute to Nat "King" Cole at the Kennedy Center where he recorded, Long Live the King (Love Productions Records, 2007) and continues to tour around the world.  In 2007, Mr. Harris was awarded the Chamber Music of America Residency Grant for his "Cross That River" project which toured 12 schools in Harlem.  Since then, the Cross That River Band has been invited to perform in schools across the country from Savannah, GA, to San Angelo, TX.  In addition to touring schools, The Kennedy Center chose to broadcast the performance to children across the country via satellite, as part of their Distance Learning Program.
"Cross That River," is now a full-scale musical celebrating the Old West as told through the words and music of a black cowboy, and played to rave reviews during the 2009 New York Musical Theater Festival and is currently in pre-production for a long-term run in early 2014.  Several original songs from "Cross That River" are also frequently featured in The Allan Harris Band's concert performances.
Prominent Past Performances​
Jazz at Lincoln Center's Rose Hall, "Suite for Human Nature," a work by Wynton Marsalis
"The Legacy Series" @Aaron Davis Hall, double bill w/ Abbey Lincoln a Tribute to Harlem's great composers
"Lost Jazz Shrines: Vocal Virtuosos of 52nd Street" (Musical director for this 3 part series)
"Solving the Riddle" a birthday tribute to Nelson Riddle with the RTE Orchestra in Dublin
"Let There Be Love" a tribute to Nat King Cole with the RTE Orchestra in Dublin
Duke Ellington's Sacred Music Concert filmed and recorded in Lugano, Switzerland
10 Day tour of Israel "Long Live the King"
The 2012 London Olympics – 10 days of performances for the Russian House with Igor Butman
Kennedy Center Awards Gala
Awards:​
3 x winner of the New York Nightlife Award for "Outstanding Jazz Vocalist"
Backstage Bistro Award "Ongoing Achievement in Jazz"
Harlem Speaks:  Jazz Museum of Harlem Award
P.A.C.E Award for Jazz Excellence (Miami)
Chamber Music of America Residency Grant Award
 ​Television & Radio​
Price Chopper Commercial – musical spokes person
NPR Weekend Edition – Cross That River interview and performance
NPR's JazzSet with Dee Dee Bridgewater:  Billy Squared
The Genius of Eddie Jefferson
2 Skirts and a Shirt
Michael Feinstein's Series:  "More Than a Song"
NPR's Piano Jazz
​Quotes:​
 CNN's Showbiz Tonight   "one of the three best male jazz vocalists in the country."​​​
Will Friedwald, jazz critic Wall Street Journal ​  "probably the most exciting young male singer on the scene."​​
Mike Joyce from the Washington Post   "Harris and Cole naturally share the same vocal wave-length."