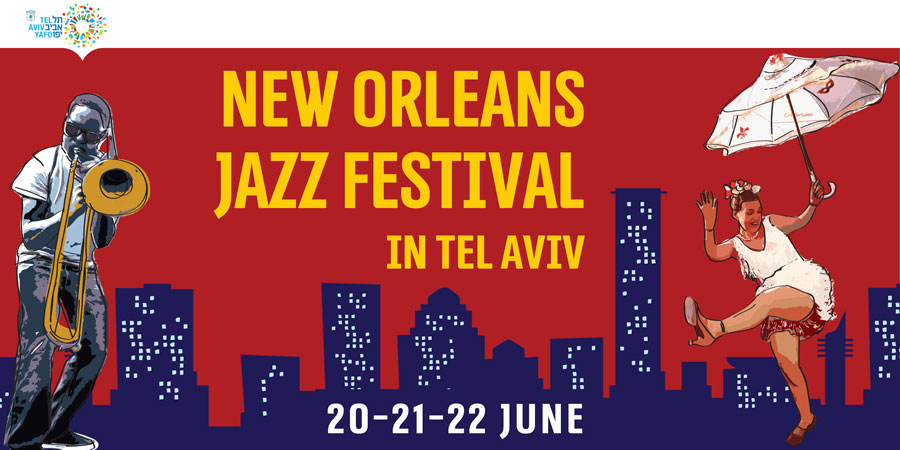 This is the second year of the New Orleans Festival In Tel Aviv. Lots of great shows await you, in 3 days of constant celebration. At the same time, we are happy to invite you to enjoy fabulous, free street shows during the festival.
The festival will span over 3 days, from June 20th to June 22nd, 2019. More details here.
Street shows – Thursday, June 20th, 2019
1930s Boogie-Woogie Madness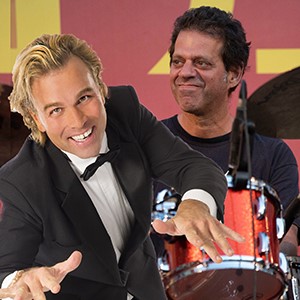 The Shay Zelman Sextet (Israel) & Silvan Zingg (Switzerland)
Thursday, June 20th, 2019 – 20:00
Silvan Zingg is one of the best pianists in the world. He will come all the way from Switzerland to bring you the best of the Boogie Woogie style, that people so adored during the 30s.
Zingg's unlimited energies along with the wonderful Shay Zelman sextet, will enable you to experience a thrilling musical style, that among others, was the basis of 50s and 60s Rock n Roll.
This cooperation will only happen in the New Orleans festival, so don't miss out!
Featuring:
Silvan Zingg Piano (Switzerland)
Bruce Harris Trumpet (New York)
Erez Bar Noy Saxophone
Yonatan Wolozuk Trombone
Assaf Hakimi Bass
Gili Ben Zvi Percussion
Shay Zelman Drums
Doctor Jazz's Dixieland Celebration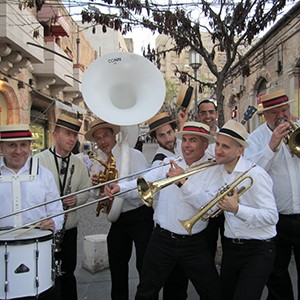 The Doctor Jazz Band (Israel)
Thursday, June 20th, 2019 – 21:30
This traditional Jazz and Dixieland ensemble will give you a taste of the New Orleans experience. Friendly, accessible Jazz with lots of fun and energy.
Dr. Jazz will play the best pieces from the early days of Jazz, and will celebrate the best Jazz artists – from Louis Armstrong to Fats Weller.
Featuring:
Shimi Gilad Banjo
Elazar Brandt Vocals and Marching Trombone
Anton Lutsky Sousaphone
Eli Ferminger Tumpet
Amnon Ben Arzi Trombone
Dan Cohen Drums and Washing Board
Street shows – Friday, June 21st, 2019
Swing Dance Party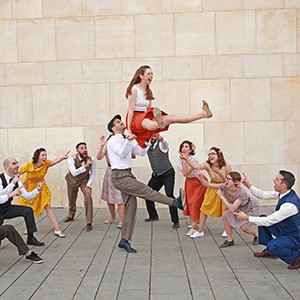 The Eyal Vilner Big Band (NY) & "Swing It" Dancers & Guests
Thurdsay, June 21st, 2019 – 20:00
The Swing dance party, led by maestro Eyal Vilner and his big band, has already become a tradition in our festival. Energetic Swing with the best teachers from the Swing It dance school is all you really need in order to experience the pace and tastes of the 1930s.
Ready your feet for the top hits of the Savoy Ballroom or the Cotton Club, and come enjoy the golden age of Jazz with us!
Featuring:
Eyal Vilner Saxophone, Clarinet, Conducting and Artistic Management
Silvan Zingg Piano (Switzterland)
Ron Wilkins Vocals and Trombone (New York)
Bruce Harris Tumpet (New York)
Assa Cook Trumpet (New York)
Yonatan Peled Trombone (New York)
Ofer Shapira Alt flute and Clarinet
Daniel Rotem Tenor Sax (Los Angeles)
Kobi Salomon Tenor Sax and Clarinet
Eden Bareket Baritone Sax (New York)
Yonatan Riklis Piano
Ram Erez Bass
Yonatan Rozen Drums
Street shows – Saturday, June 22nd, 2019
Welcome to Swingland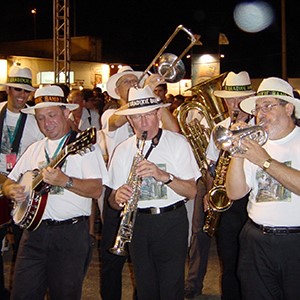 The Isradixie Octet (Israel)
Saturday, June 22nd, 2019 – 20:00
The Isradixie Octet of Abraham Felder features the best Jazz artists of Israel. These Jazz elders have been performing together for many years, and they do it with lots of passion and true love to the New Orleans and Dixieland styles.
The real story of Jazz, as it was played in Congo Square, Bourbon Street and New Orleans, will be told in this show, with the top hits from the likes of Louis Armstrong, King Oliver and more.
Featuring:
Abraham Felder Artistic Management, Trumpet and Flugelhorn
Morton Kam Clarinet and Tenor Sax
Jack Saniago Soprano Sax
Yossi Regev Trombone
Aharoni Benari Banjo
Amir David Drums
Shay Buxbaum Tuba
Paul Derek Mor Washing Board, Ukulele, Banjo
The Great Marsh Dondurma Street Party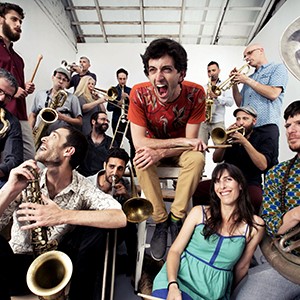 Marsh Dondurma (Israel)
Saturday, June 22nd, 2019 – 22:30
This huge street party will elevate the New Orleans Jazz Festival in Tel Aviv to heights of joy and rhythm. This ensemble combines many styles, such as New Orleans atmosphere, Dixieland, ethnic and Gypsy music and more – all mesh into an incredible, Jazzy festivity.
Featuring:
Eli Freminger Trumpet
Idan Raveh Trumpet
Aviran Ben Naim Trumpet
Mayan Milo Trombone
Yaron Uzana Trombone
Louisa Salomon Trombone
Jacob Gornstein Saxophone
Evyatar Levi Saxophone
Eylon Toshiner Saxophone
Danny Leibovits Saxophone
Anto Falco Saxophone
Dotan Yogev Drums and Percussion
Noa Segal Drums and Percussion
Oded Aloni Drums and Percussion
Yuval Kaufman Drums and Percussion
Udi Raz Sousaphone