Ray Gelato & The Swing Quartet from London
will open the new year at the Hot Jazz series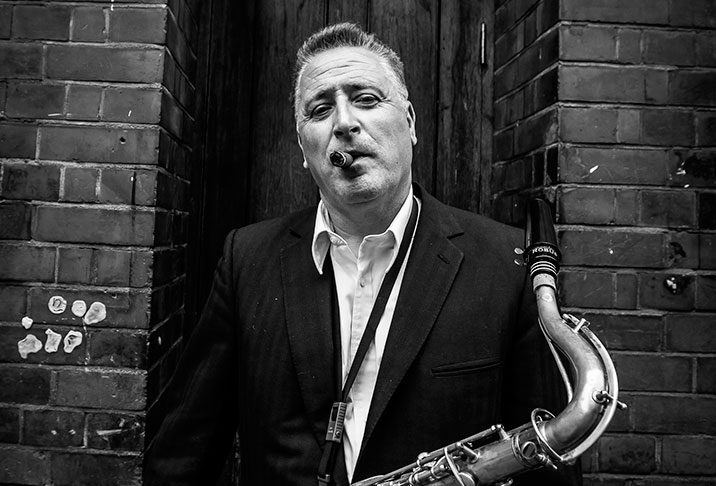 Ray Gelato has been fortunate to have worked with many greats in this business including Van Morrison& Fats Waller include playing Umbria Jazz in Italy 8 times! The Montreal Jazz Festival, Carnegie Hall, The Blue Note NY, The Lincoln Center NY and Sir Paul McCartney's wedding. He has also opened for Robbie Williams at The Royal Albert Hall and performed on two occasions for HM The Queen.
He has also performed with Pete Long's Echoes of Ellington Orchestra, The Barcelona Big Blues Band, and Philadelphia's City Rhythm Orchestra.
Ray has been a favourite at the world-famous Ronnie Scott's Jazz Club in London, holding down a 14 year residency over the Christmas period.
Ray Gelato is credited for helping kick off the Swing revival in the early '80s. This interest in vintage Swing/Jazz and R&B went massive in the '90s.
Respected Jazz critics such as Jack Massarik (Eve Standard) , Clive Davis (The Times) and Martin Chilton ( Daily Telegraph) have given Ray very high accolades about his 'Swing based' saxophone playing, giving special note to his sound and phrasing and also to his highly distinctive, swinging vocal style .Ray Gelato, perhaps the last of the great jazz entertainers.
"Taking swing to the masses… sheer fun and enjoyment… "The stylish, sharp-suited Gelato brings an unmistakable physical presence to the bandstand. He is a larger-than-life character".  — The Times
A special children's show as a part of the "Hot Jazz for kids" series:
"Ray – The King of Swing" with the same mentioned performers and hosted by The Israeli Jazz singer Eden Holan will be held on Saturday January 13, 2018, 11:00, at Recanati Auditorium, Tel Aviv Museum of Art. Tickets: 03-5733001, line 1. Suitable for ages 4-10.
Ray Gelato Vocal & Tenor Saxophone (London)
Gunther Kurmayr Piano (London)
Ivan Kovacevic Bass (Spain)
Marti Elias Vignals Drums (Spain)
Show Dates and Times
Saturday, January 6, 2018, 21:00
Ganei Tikva center stage
Tickets at: 03-7375777
Monday, January 8, 2018, 21:00
Jerusalem Theater
Tickets at: 03-5733001
Tuesday, January 9, 2018,
Zappa Herzeliya, 20:15 (show starts at 22:00)
Tickets at: 03-5733001
Wednesday, January 10, 2018, 20:30
The Be'er-Sheva Theater
Tickets at: 08-6266400, line 1
Thursday, January 11, 2018, 21:00
Recanati Auditorium, Tel Aviv Museum of Art.
Tickets at: 03-5733001
Friday, January 12, 2018, 21:30
Recanati Auditorium, Tel Aviv Museum of Art.
Tickets at: 03-5733001
Saturday, January 13, 2018, 21:00
Abba Hushi Center for Culture and Society, Haifa.
Tickets at: 04-8227850